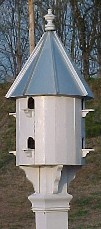 This round birdhouse was designed and built specially at birdgoods.com. It was a great addition to accent any yard as a yard ornament but it is also functional. Wrens will nest in it, but then, wrens will nest in almost anything. After having many of these birdhouses erected at various locations, it was a pleasant surprise to find out that bluebirds like to nest in them (at least eastern bluebirds do, haven't heard from any of the ones erected out west). It doesn't meet the recommended specification for bluebird houses, except for the entrance hole. I guess the bluebirds overlook that technicality in favor of the beauty of this birdhouse. The body of the birdhouse is 10" in diameter made of pine, painted white. The roof is made of unpainted aluminum for a long lasting beauty. Overall the birdhouse is about 26" tall and built to mount on a 4x4 post, not included. Precut trim pieces for post are included. Click on the photo to see an even larger image and even more details about this birdhouse.
We had these houses priced at $119 each. That's a lot of money but think of all the trouble we went to -- wheezer had to cut out all the pieces, assemble the house, then Sander had to sand it down, caulk it, paint it, then we had to box up the house itself in one box and the roof in another so as not to damage the roof. Then we had to take it to UPS for shipment. It was such a pain that we almost got to the point of dreading getting an order! : )
[more info about this house]
This birdhouse was shipped in two separate boxes -- the main body in one box and the roof in another. All a customer had to do was screw the 8-3/4" all thread rod into a coupling nut on top of the main body, place the roof on, and attach finial. All necessary parts were included as well as an even more detailed explanation of the minor assembly (no tools necessary).
Instructions shipped with the house also outlined installing a 4"x4" post upon which to mount the house. The post was, of course, not included. A treated pine 4"x4" post can be purchased at Home Depot, Lowe's or any local lumber yard. You'll need one 8' long to allow 2 feet into the ground and six feet above ground. That would put the house at what we had found to be a perfect height for bluebirds. We have had numerous cases of bluebirds nesting in this house (only one pair at a time though).
The kit included the trim pieces to be attached to your post. These pieces were precut for a 4"x4" post which strangely enough actually measures 3-1/2" x 3-1/2". Treated posts vary slightly in size so don't be too concerned that the trim pieces might not fit together perfectly. This is part of life. Things just don't always turn out as perfectly as we would like. : ) A little caulk will fill any gap and the completed trim will be altogether as beautiful, just as in life.
Even though we custom built these for each order, we didn't offer any options for differences. Aluminum was the only sheet material we were able to find in the correct thickness to be able to bend into the standing seams that give this birdhouse its unique styling. Also, we have tried different colors but it seems to lose some of its class in other colors. Depending on your decor, however, you can paint the body to your desired color prior to final assembly. Since the house comes with the roof not attached, it makes it easy to add a final coat of your choice. It is not necessary to add a final coat as the white color we use is applied in a primer first and then two finish coats. Add another coat only if you have special reason to change the color.
Once in a while, extreme temperature changes might cause the siding on the house to expand to the point of buckling slightly. If this happens, be not dismayed. Just use a pocket knife or other sharp implement (be careful!) to trim a little off the edge of the buckled piece and tap on the nails to put it back in place. Also, once a year the house needs to be cleaned out. It can be easily removed from the post for this purpose. We found it best to use needle nose pliers or a screwdriver to remove old nest materials through the entrance hole. Clean the outside, touch up paint and reposition the house back onto the post. This maintenance done annually will assure that the birdhouse lasts many years. We made the assembly and installation instructions available online for download. The document is a Microsoft Word file. These instructions could now be helpful for erecting a birdhouse of any kind. If you would like this document in a different format, email us.
The stated price included our cost to box and prepare the birdhouse for shipment but did not include UPS shipping charges. The UPS charge was computed in the ordering process based on customer location in the United States. We did not ship to overseas locations. State sales tax of 7% was added to your order only if you lived in Mississippi (sorry, fellow Mississipians).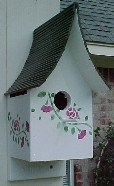 This birdhouse was prepared for mounting to any flat surface -- a post, the side of your house, a column on your back porch, a fence post or wherever your imagination leads you. If you have an open area in front of it, bluebirds will nest in it. We had bluebirds to nest in one of these on our back porch with us going and coming all the time!
Birdhouse is 5-1/2" wide x 5-1/2" deep x about 12" tall (outside dimensions). Roof is green, 7-1/2" front to back. Body of these birdhouses was white background with hand stenciled flowers and leaves. Entrance hole was 1-1/2" diameter. We called this one "Buckatunna Bungalow." You could probably build one like it if you tried.
We used to sell these houses for $36.00 each. Might seem cheap now but in 1999 it was pretty expensive. : )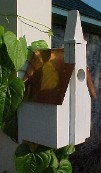 This birdhouse was built to provide inside dimensions recommended by the North American Bluebird Society. It was also prepared for mounting to any flat surface -- a post, the side of your house, a column on your back porch, a fence post etc. Beautiful copper roof and sanded white paint finish give this birdhouse simple rustic beauty.
Birdhouse is 6-1/2" wide x 6-1/2" deep x about 15" tall (outside dimensions). Entrance hole is 1-1/2" diameter. We called this one "Whistler Church" and that almost got us in trouble one time -- apparently a Muslim customer bought one and was concerned to learn after getting it at home that it was named Whistler Church. Since apparently only Christian houses of worship are called churches, the customer was offended that it wasn't called a mosque I suppose. Oh well, some people are just looking for something to be offended about.
We used to sell these birdhouses for $49.00 each.


We also sold birdhouses built by other venders at one time -- like one called "Chez Birdie" that was a guy who lived in Florida. We sold his houses for him with very little markup on our part. But, alas, he also went out of business even before we did. I hope the guy is still alive and doing well!