Yes, we do recommend Droll Yankees feeders as THE standard in wild birdfeeders. We were a dealer for Droll Yankees back in the year 2000 and Droll Yankees used to also sell direct retail. Now not only are we not a dealer but Droll Yankees no longer sells direct anymore except from an Amazon.com store. You can shop that store from this link and get most any of the products shown below, except, of course, the one we made ourselves back then.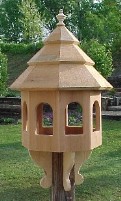 Wheezer used to hand make these feeders for sale. They are made of all cedar wood. There was a lot of mitering of joints and routing of edges involved as well as close fits for all the joints in the sides and the roof. It took a whole lot of time to build each one. And shipping was also a pain because of the size of it. We've lost track of what our price was but it was around $150.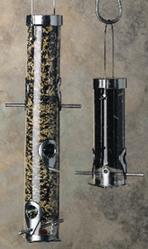 The original tubular bird feeder on the market was the A-6. With 6 metal feeding ports, a virgin UV stabilized tube and aluminum perches, it's built to last. All "A" size Classics have a 2-1/2" diameter tube. The Mini has two feeding ports. The
8" long, A-6 Mini,
though they no longer make this one, we used to sell for:$18.00 each plus SH
The 16" long original A-6 model, A6-F
we sold for:$26.00 each plus SH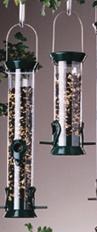 The CJ Series of sunflower seed feeders is the state of the art in tubular bird feeders today. Their style and beauty will enhance any backyard setting. Made of the finest materials, completely assembled and ready-to-use, they're also easy to disassemble for cleaning. The tube diameter is 2 1/2". birdgoods.com is currently only offering the green color.
This used to come in an 8" long version, CJM8G, but that model is no longer made. We used to sell it for $19.00 each plus SH
The 15" long model
, CJM15G was $25.00 each plus SH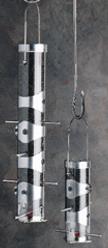 Droll Yankees' popular thistle (niger) seed feeder attracts the beautiful finches. Birdgoods.com offered this distinctive design in two sizes.
8" long, TH Mini
was sold for $24.00 each plus SH
The 16" long, TH-3
, we sold for $34.00 each plus SH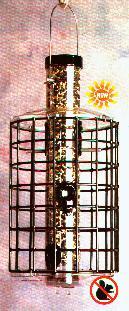 Classic A6F feeder but in stunning black with heavy duty 8" diameter cage -- keeps out squirrels and large birds. The cage allows small birds in to eat but large squirrels or crows can't eat up your seed.
A-6 with Guard
$54.00 each plus SH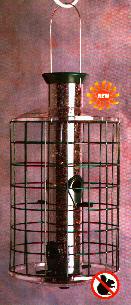 "New Generation" Green feeder with green cage -- guards seed from squirrels and large birds. 8" diameter cage.
New Feeder with Guard
$47.00 each plus SH

The YANKEE FLIPPER is the definitive squirrel proof bird feeder. Birds love to eat from it, but squirrels are prevented from eating from it in a way that will make you smile. The weight activated feeding perch is calibrated to react to a squirrel's weight. When a squirrel steps on the perch, a connection is made with a motor that makes the perch spin, and the squirrel is flipped off the feeder. Thus, the name Yankee Flipper. The unit comes equipped with rechargeable nicad batteries and a battery recharger. Would you expect anything less of Droll Yankees? 21" long, 4 ports, 4 qt. capacity.
YF
$110.00 each plus SH
fun video of squirrel trying to defeat this feeder.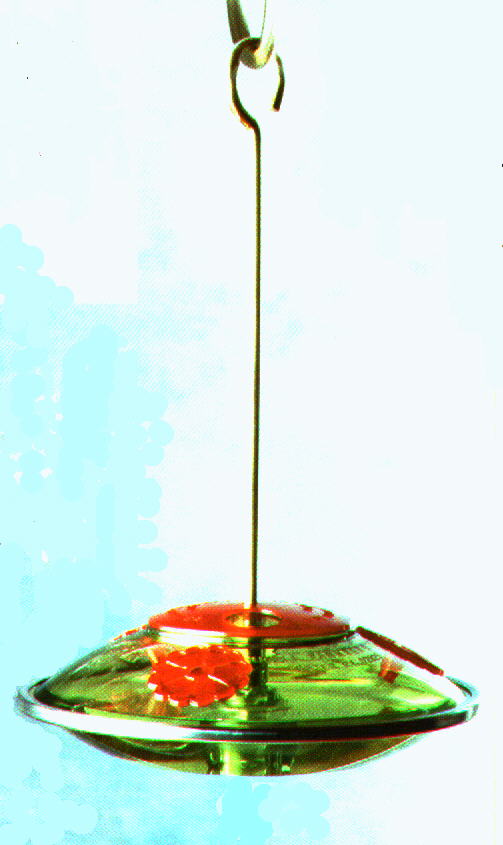 The Little Flyer, 3 port hummingbird feeder. Easy to refill and clean. Brass rod hanger.
LF
we sold for: $18.00 each plus SH
Bring in more birds -- provide a water source
Birds do need water. A static water source will provide drinking water and some birds will actually bathe in water about 1/2" deep. See our
bluebird page
where we caught a bluebird bathing in a static water source. An even better water source is one that provides flowing water, the sound of which seems to attract birds also. A yard fountain with pump adds beauty and sound for your listening and viewing pleasure as well as that of the birds.
Hand-finished Terra Cotta Products from OPUS USA! (who no longer sell birdbaths)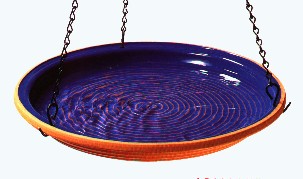 Standard, round birdbath. 14-1/2" Diameter with lead free glaze. Rust-resistant hanging hardware is included. $33.00 each plus SH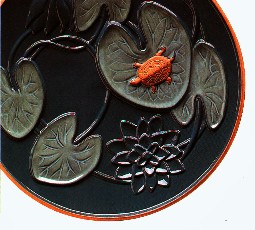 Another one that we used to sell. Opus does not even sell birdbaths anymore but these sure were purdy! I don't know how they made them economically enough to sell at this low price we used to sell for. Of course, we weren't making much money on anything either or else we would still be in business. : ) $33.00 each plus SH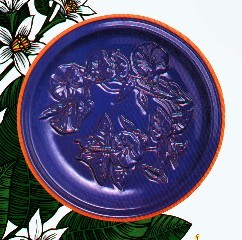 Butterfly Birdbath. 14-1/2" Diameter with lead free glaze. Beautifully sculpted flowers with butterfly motif. Rust-resistant hanging hardware is included. Click on image to see more detailed, larger picture. $33.00 each plus SH